Services
One for All -
HANSA-FLEX

System Solutions

Benefit from the comprehensive expertise that HANSA-FLEX has accumulated over more than 55 years as a leading manufacturer in the hydraulics industry. Our services include the optimisation of manufacturing processes from OEM, plant-in-plant production, kanban and kitting through to individual consulting for major projects and special requirements, such as offshore projects. We also deliver to the remotest regions of the world.

Narrow time windows and a high price sensitivity are everyday challenges for us, which we know how to deal with. We always develop our solutions together with our customers, always find the right products and also manufacture special components according to your specifications. Our experienced and committed employees provide fast and qualified help in every situation through their specialist knowledge and service readiness.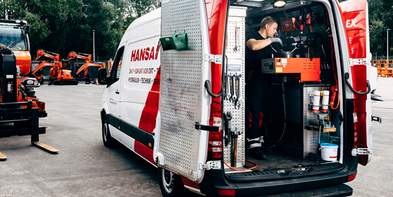 Fast spare parts logistics
Getting hold of spare parts is no problem thanks to HANSA-FLEX. A dense network of branches ensures ready access to the components you require, even at short notice.

We can offer such efficiency as we hold over 82,000 different parts permanently in stock. Then there is our experienced and committed workforce. With their expertise and focus on service they provide fast, qualified help in any situation.
High-performance OEM concepts
No matter whether you as an OEM want to streamline logistics, improve mobility or boost productivity: HANSA-FLEX Solutions will cater for your objectives in the smallest detail.

Service modules such as "kanban and consignment warehouses", "kitting" and "works in works" prove to be especially cost-effective. These OEM services are customised and carefully coordinated with your production process cycles. X-CODE, hydraulic workshops and the HANSA-FLEX Fluid Service offer other options for cutting costs.
Kanban and consignment warehouses
An increasing number of OEMs are relying on the system partnership of HANSA-FLEX Solutions to optimise their production processes and logistics. They are looking for joint concepts that allow added value to be systematically increased for customers. HANSA-FLEX develops such concepts. Logistics solutions we have already created in close cooperation with OEMs include kanban and consignment warehouses.

HANSA-FLEX kanban warehouses offer you an on-site, structured and regularly maintained stock of hydraulic parts for your production lines. The products required are always to hand for fitters. Doing away with any need for time-consuming planning and ordering.

Kanban warehouses can also be run as consignment warehouses. This means that the parts initially remain in HANSA-FLEX's possession and only become a cost factor with stock withdrawals. With this principle you only pay for what you actually need.
Works-in-works
The "works-in-works" concept provides for full integration of HANSA-FLEX services and products in your manufacturing processes – including shift operation. HANSA-FLEX maintains a production workshop with a specified stock of spare parts and all equipment at your company. The benefits are obvious: You do not need your own stock of parts for fluid technology. So doing away with the costs of warehousing, financing the stored goods or the costs of internal logistics.

You can forget about wrong orders and charging off goods that are superfluous or surplus to needs. The response times for product delivery, manufacturing spare parts or building prototypes are extremely short. Making your operations very flexible. There is always someone about to discuss all technical or commercial issues on site. The HANSA-FLEX SOLUTIONS fast and direct communication system ensures everything goes without a hitch. This will also allow you to cater for a short-term increased production requirement without difficulty at any time.
Fluid Service
75 percent of all hydraulic fluids in hydraulic systems are so contaminated that they cause wear, malfunctions and unscheduled stoppages. The HANSA-FLEX Fluid Service is the solution. You are offered a fast, accurate analysis of the oil status of every machine as well as individual suggestions for optimisation. Whatever the circumstances, the Fluid Service can be relied on to counteract the imperceptible process of oil contamination.
Hydraulics workshop
When building sites are based in areas without adequate infrastructure, valuable time is wasted until a spare hose line is delivered. The solution: HANSA-FLEX hydraulic workshops – fully equipped containers with everything your fitters need to quickly manufacture spare parts. And if the building site moves, the container goes on ahead.
Your advantages with
HANSA-FLEX
All under one roof
Benefit from a complete range of hydraulic hoses and connecting elements for the hydraulics
Flexible assembly teams
Our assembly teams are always ready with a fully equipped workshop trolley.
X-CODE
Reduce unplanned machine downtime to a minimum with the X-CODE
Best quality
Certified according to DIN EN ISO 9001: 2015, we stand for the highest quality standards