The
HANSA-FLEX
X-CODE
Since 2004, the HANSA-FLEXX-CODE has been a convincing tool in spare parts procurement. The six-digit code identifies all product features of hydraulic fasteners - as precisely and individually as a fingerprint. The unmistakable yellow label with the X-CODE is clearly visible and permanently attached to the hose line and enables our customers to procure spare parts accurately and unambiguously - worldwide at all HANSA-FLEX branches.
Combine the X-CODE with the extensive functionalities of our customer portal My.HANSA-FLEX and exploit the full potential of the X-CODE. Preventive maintenance is easy with this software, because you can keep an eye on all hose lines and machines at all times and plan your maintenance and inspection intervals in advance.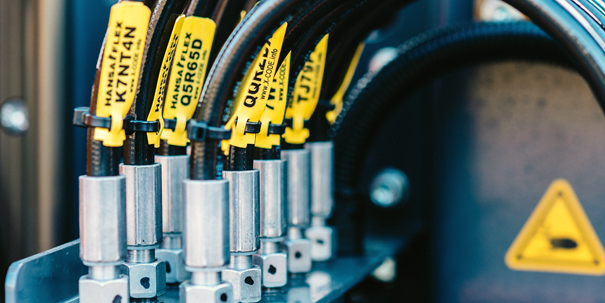 Identification on Click
If you need a replacement for one of your hose assemblies, this can be easily and reliably identified via the X-CODE. Simply state the X-CODE when placing your order and it will be manufactured immediately at the nearest subsidiary and ready for collection just a few hours later. On request, we can also deliver the replacement hose line directly to you.
For this purpose, each hose line is provided with the familiar tag, which is highlighted in characteristic yellow. In this way you can find the X-CODE quickly and easily in your machines. You can also call up your X-CODEs at any time in our customer portal My.HANSA-FLEX and look up all important data.
Immediate Assistance in Emergency
As a mobile workshop on four wheels, the Hydraulic Instant Service comes to you - 24 hours a day, 365 days a year, no matter where! Call the hydraulic immediate service and order at the same time via X-CODE - everything is done very quickly.
Using the X-CODE, the exact specification of the hose line is decoded and transmitted to the service technician. Depending on the situation, he has the spare part manufactured at the nearest branch or he manufactures the hose line directly on site in his vehicle and then installs it in the machine immediately. Maintenance can be this simple!
Discover Hose Management
In conjunction with our customer portal My.HANSA-FLEX, the X-CODE becomes the perfect tool for our customers to manage all hose lines in a clear, easy, and concise manner. Hose lines are recorded and clearly displayed in the personal database. You can see the most important information about your X-CODEs at a glance, e.g. when a hose line was manufactured and how long it has been in use. In addition, all X-CODEs can be organized in a machines structure to ensure optimal organization.
The service life of each individual hose assembly can be adjusted by the individually assigned classification and aligned with the risk assessment. In this way, inspection and maintenance intervals can be planned in advance specifically. On request, we can take over the hose management for you and take care of your data. Dates for inspection and maintenance are integrated into your processes on site so that your production does not come to a standstill. Preventive maintenance could not be planned more efficiently.
A summary of the advantages
Unmistakable identification at the press of a button
Replacement parts with a phone call
Rapid delivery
Subsequent coding upon request
Preventative hose line management
My.

HANSA-FLEX

.COM customer-specific database
Your advantages with
HANSA-FLEX
All under one roof
Benefit from a complete range of hydraulic hoses and connecting elements for the hydraulics
Flexible assembly teams
Our assembly teams are always ready with a fully equipped workshop trolley.
X-CODE
Reduce unplanned machine downtime to a minimum with the X-CODE
Best quality
Certified according to DIN EN ISO 9001: 2015, we stand for the highest quality standards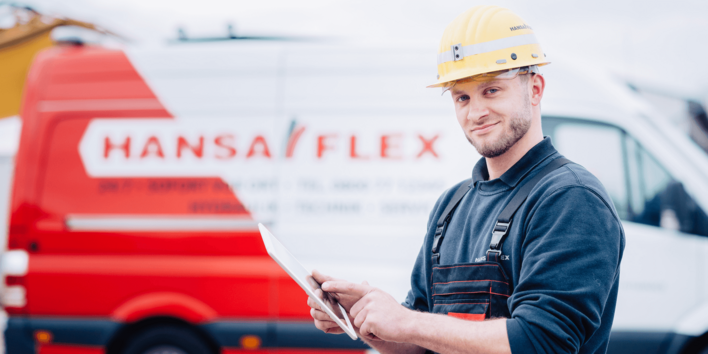 Rapid Hydraulic Service
Emergencies and machine failures