Peak Performance, top efficiency
Filter technology made by HANSA-FLEX ensures a smooth operation of your plant and machinery. Effective filtration is the basic prerequisite in order for highly sensitive hydraulic systems to remain functional. Solid and liquid impurities cause abrasion, which in turn increases wear and promotes corrosion. This has a negative effect on the physicalchemical properties of hydraulic fluids.
The performance of the filter elements determines the purity of the fluids and hence the life span of any hydraulic system. Whatever type of hydraulic application, HANSA-FLEX has the appropriate filter solution.
Our product range includes:
Suction filter
Suction filter
Protect the pump and system against coarse contaminants. These should be installed easily accessible in the suction line just before the hydraulic pump.
Pressure filter
Pressure filter
Always a good solution. Designed for pressures of 25-450 bar, they are used as full or partial flow filters. Whether line filter, flange filter or filter in a sandwich plate design – the filters are always matched perfectly to each application.
Duplex filters
Duplex filters
With a single-hand operation and lossless conversion of the flow of fluids our duplex filters offer the highest efficiency. Applicable in low and medium pressure range or as return line filters. This way maintenance can be carried during the machine operation.
Return filter
Return filter
Catch the entire dirt that is carried by the oil to the tank. Therefore the return filter prevents dirt particles to return to the oil circuit via the tank and the pump.
Bypass filter
Bypass filter
The optimal solution for the filtration of large quantities of oil during machine operation. Available as stationary or mobile version.
Breather filter
Breather filter
Built to guarantee the contaminant-free air supply of containers. This way a safe and clean refuelling and venting of hydraulic tanks can be ensured.
HANSA-FLEX

Fluid Service optimises

Around 70% of all system failures can be prevented with a fluid management system in place, as even fresh oil is often delivered with considerable impurities.

Our fluid service analyses the condition of the oil during machine operation. Based on the data obtained measures are recommended. These are always based on the state of the fluid and are therefore carried out cost-effectively. With the HANSA-FLEX Fluid Service you are handing over your vital oil analysis and maintenance projects to our experienced specialists. HANSA-FLEX filter technology combined with our fluid service is the best solution to maximize the service times of your machines.
Your advantages with
HANSA-FLEX
All under one roof
Benefit from a complete range of hydraulic hoses and connecting elements for the hydraulics
Flexible assembly teams
Our assembly teams are always ready with a fully equipped workshop trolley.
X-CODE
Reduce unplanned machine downtime to a minimum with the X-CODE
Best quality
Certified according to DIN EN ISO 9001: 2015, we stand for the highest quality standards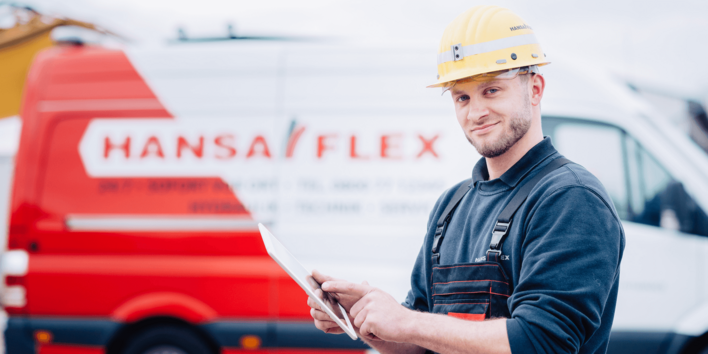 Rapid Hydraulic Service
Emergencies and machine failures